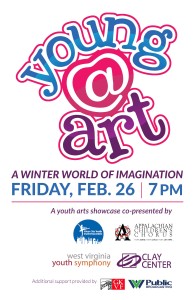 A collaboration of local youth arts organizations, the River City Youth Ballet Ensemble (RCYBE), the West Virginia Youth Symphony (WVYS), the Appalachian Children's Chorus (ACC), and the Clay Center for the Arts & Sciences, combine to form YOUNG @ ART, and present A Winter World of Imagination.  A new mid-winter performance showcasing young talent in the arts from in the region.  This unique presentation is a beautiful live ballet performance of children, from age 7 to 20 years old, performing in three disciplines –ballet dancing, instrumental orchestral music and vocal performance.  A whimsical winter fairy tale theme weaves the performance together and garners excitement, and perhaps inspiration, among school children, young families and the public.
Over 150 RCYBE, WVYS and ACC young artists will perform with each other on stage and in the orchestra pit, delighting young people and adult audience members, alike!
One daytime performances are available for schools, homeschool groups and daycares on Friday, February 26, at 9:30am, tickets are $4 each.  To make reservations for this show please call The Clay Center group sales representative, Dylan Turner.  An evening performance is open to the general public. To purchase tickets, please call the Clay Center box office at 304-561-3570 or visit tickets.theclaycenter.org.
February 26, 9:30 am and 7:00 pm
Maier Theater of the Clay Center for the Arts & Sciences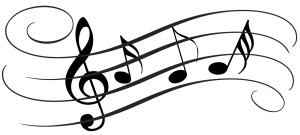 Join us for our second annual fundraiser, The Piano Barre Gala on Saturday, March 12, 2016, 6:00 pm at The Charleston Women's Club, located at 1600 Virginia Street.
The evening will feature live music by Charleston native, Bob Thompson, a Jamaican themed catered dinner, a silent auction, and a cash bar.  Tickets for the evening are $75 each and must be purchased in advance.  To purchase tickets, by cash, check, or charge card, please call 304-925-3262.
The River City Youth Ballet Ensemble is The Official Youth Ballet of WV and takes pride in providing WV dancers for WV audiences.  RCYBE is a 501c registered non-profit organization and a portion of your ticket purchase may be tax deductible. All proceeds raised will go to support River City Youth Ballet Ensemble with miscellaneous performance costs, bringing in guest master teachers from around the world, and providing scholarships to dancers.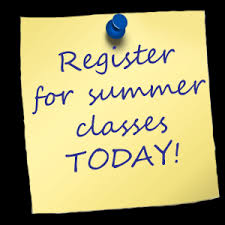 Summer intensive information is now available on our calendar!  We will have intensives with guest teachers, Nina Danilova, Lorraine Graves, and Peter Frame in June and August.  Also there will be an intro to ballet camp in June and special two week classes for ballet and hip hop in July. Click here  for the June calendar and more information.  We will have paper registration forms available in the office and the pdf available for download here soon.