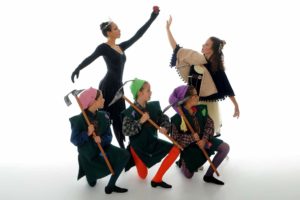 River City Youth Ballet Ensemble, the Official Youth Ballet for the State of WV, presents, SNOW WHITE, adapted from the Brothers Grimm. Boys and girls of all ages are sure to enjoy this captivating ballet of a charming princess saved from the evil deeds of her step-mother, the Queen, by a group of adorable seven dwarfs.
Tickets are $12 for adults and $8 for children (ages 3-12), all seats are general admission. They can now be purchased in the studio, by calling 304-925-3262, or at the door on December 2.
There is a school performance on Friday, December 2, at 9:15am. Tickets are $4 each per student. Make your reservations now by calling 304-925-3262.
*photo by Mike Winland of Winland Studios*
*performance brought to you in part by Greater Kanawha Valley Foundation and Fund for the Arts*